I adore dogs. With a little bit of yard space, I'd have a couple, something between the size of a border collie and a Newfoundland. Yeah, I like them big! And anyone who knows me understands how much I miss my Bear. Our psycho cat Cocoa was meowing and jumping at his picture last night. She's a total nutter!
At the Aussie Bloggers Conference the GOFA and I saw this aged pooch, obviously adored by his owners and not so able to get around easily anymore.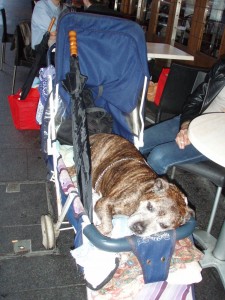 If only we were all so cared for in our dotage. And if only we all had friends like this.