Fruit cakes are an oft baked item in my home as the GOFA is quite partial to them, as are others around him. They get sent on to others, shared by many. My standard boiled fruit cake is easy to make and I have the starts of one sitting on the stove now for my beloved's birthday. The fruit cake steep a while longer yet.
I've been absent for way too long from Kim's Sunday Selections and I may not get another post up anytime soon, but this one needs to be written, complete with pictures, because this selection of photographs documents the creation of Kim's daughter's wedding cake. Now, I know Veronica has more than one type of cake in the planning, but she was keen, when asked, to have a traditional fruit cake. So, I've pulled out my ever evolving Christmas cake recipe, put it through another generation of evolution and created what I suspect is going to be a rip-snorter of a deep, rich, slab of fruit cake-lovers' delight!
Sounds a bit early to be making the cake, I hear you say? Well, the Christmas cake was always made at least 3 months ahead in my childhood home and the puddings in mid year, hung in calico in the garage. The flavours mature and I can tell you that a pudding will keep easily for two years if you prepare the calico properly. I know, I've kept one that Mum made and then eaten it two years on. But puddings are a different post. This is about a wedding cake.
First thing, is to steep the fruit in a generous amount of alcohol. My plonk of choice, after some experimentation is either Lochan Ora or Glayva. Both are scotch liqueurs with a strong citrus flavour that I really like infused through the fruit.
I've also used white port, tawny port, scotch and brandy. I my opinion, the liqueurs result in the best flavour, but if citrus is not your thing, just pick another one. Regardless of the plonk you choose, if you are making a cake for a special occasion don't skimp on the quality of the alcohol. It really does make a difference to the final product.
As I said, this cake had to go through another evolution as I'm finding it harder each year to find the glace fruits I usually use for my special cakes. They used to be available in mid year but now they only seem to be readily found in November. After discussion with Mum, I took the plunge and bought dried fruits. Pears, apples, pineapple, peel as well as semi-dried apricots. I threw in more glace cherries and altered the balance of the sultanas and currants.
I chose to use more prunes in place of dates for the extra moisture they offered. I threw in the rind of a freshly grated orange, more orange juice than usual and half the bottle of Loch Ora. *Hic* The whole lot sat in a bowl for two weeks, in the corner of my kitchen gradually soaking in the alcohol, the dried fruit reconstituting and suffusing my home with an aroma a distillery would have been proud of.
I've left fruit to soak for up to a month before using it. I've even added more alcohol as I've given it the occasional stir and thought it all seemed a bit dry. In this case, Veronica's cake got no more alcohol; it didn't seem to need it. On baking day, I add chopped pecans. I'm not terribly fond of the bitterness of walnuts.
Come baking day I prepared my cake tin, lined on base and sides with Glad Bake, the only product I will use for my cakes. I've had disasters with cheaper options and no longer bother with alternatives. Although the paper is greased on both sides I still grease the pan as well and then carefully grease the paper itself once I've lined the pan. My paper always slips off without problem after the cake has cooked. In fact one of the signs the cake is cooked, is if you tug at it and it easily slips between the cake and the tin. But I'm getting ahead of myself …
This is a BIG cake. I have no bowl large enough to mix this cake in, so out comes my enormous stockpot. Eggs are added one or two at a time to ensure that they mix in well.
The flour is sifted once only. This is not a light, fluffy sponge; it is a solid, weighty, traditional rich fruit cake. There is, in my opinion, no point in sifting the flour three times. What's more, I sift the dry ingredients directly into the butter mixture. I like dark brown sugar for it's extra depth of flavour, that little bit of molasses, but it can turn your cake very dark and not everyone likes that. I tend to use about 1/5th caster sugar as well. The other things that make your cake dark are the choice of fruit (try to use more with a pale flesh) and bicarbonate of soda.
The flour, all spice, nutmeg, cinnamon, and other dry ingredients are sifted in with the butter mixture in portions, along with the steeped fruit. I sourced fresh cinnamon and nutmeg for this cake; I don't usually, but thought it would help with the flavour and I was rewarded with the lovely aroma of the spices as they were grated.
Once all ingredients were combined, the mixture was poured into the prepared tin. You'll see I globbed a bit on the edge up high. No need to fuss, I was just a bit untidy! The mixture was spread evenly in the pan and then a slight indentation created in the middle to allow for the cake rising while baking. As you can see, the mixture is not terribly dark and the final result should be a deep golden cake when it's cut.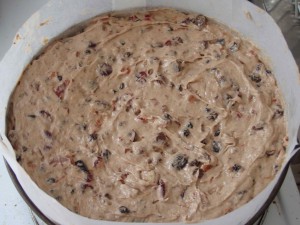 About halfway through the process of mixing the cake I set my convection oven to preheat at 130oC. It only takes about 5 minutes to heat and the oven will turn itself off if I don't start using it within about ten minutes once it has reached temperature. If I was to bake it in a conventional oven without a fan, I'd probably aim for about 145oC. The biggest challenge is not baking this cake too fast. As I said, it is BIG! If you get the temperature right, it should rise modestly, but remain fairly flat on top without cracking. Cook too fast and the centre will be under cooked, the cake may dome, probably burn on the tops and sides and it will crack. Cook it too slow and it may stay flat but fail to rise much and the sugars will caramelize and you're likely to burn the top (but not the sides).
I baked the cake for about 5 hours. After about 3 hours I decided to take the temperature up to 140oC, as it  hadn't quite leveled in the middle where I made the mix a little more shallow to accommodate the rise. I cannot increase the temp on my convection oven in 5oC lots … I would have if I could. I also put a layer of Glad Bake over the top to prevent the top from browning any further. This is always the case when baking this cake, and I always keep a piece ready to add once the top is dark enough.
When you can smell the cake throughout the house, it's time for the paper tug-test. It's only a gentle tug, but if the edges are cooked, the paper should slide easily. The other test is the skewer in the middle. Now, you expect to pick up a wee bit of fruit, but if there's heaps of fruit and/or uncooked cake mix, it's underdone and you need to raise the temperature a tad or you'll be going to bed when the birds start their morning song!
The final step in creating Veronica's cake was to glaze it whilst still hot with another 50-100 ml of Lochan Ora.
Wrap the whole thing in aluminium foil and leave the cake to cool completely in the tin. There was still some warmth in the tin when I got up for work the next morning, some 12 hours later, so I left it there to deal with when I got home that night.
Once completely cooled turn the cake out – keeping the paper in tact as much as possible – and take a look at the underside. You only need to peel the paper a tad. If it's all looking good, then keep the paper on that you cooked in, and use another layer to keep the moisture in. I then wrap the whole thing in aluminium foil, before wrapping again, as tightly as possible in cling wrap. Try to get as much air out as possible. I even use tape to ensure the cling wrap does not peel open. Put the cake away and leave to mature over the coming weeks or months. A cake like this will easily keep for 3months, if you wrap it carefully.
When it's time to serve the cake, you can decorate with almond icing (the GOFA's favourite icing, sweet tooth that he is!) or serve au naturel. If you know that it will not be iced you can decorate the top with cherries and pecans before baking. Keep in a tin or cake container that has a good seal and the cake should last without problem for up to 3 weeks. Remember, it's been pickled within an inch of it's life! All the alcohol has evaporated in the baking process, except for that which was used to glaze. Do be careful if you have P or L plate drivers eating a slice of cake made in this manner though, as they may register a reading on the breathalyzer due to the glaze (but not on the blood test)!
So there you have it, one wedding cake made with lots of love for my Bloggy Big Sister! It's sitting, wrapped in my kitchen until I can get it down to Tassie's shores in time for Veronica to arrange whatever decorations she chooses. Now, if anyone is heading that way from Sydney in the coming weeks, let me know. I've got a package that needs delivering!